Food Photography Studio for Hire
---
The large, brand new and fully equipped kitchen of Studio 1 is the centrepiece of this food photography studio in East London. It is purposely designed and built for food photographers, food stylists and anyone in the food industry that require a location for a shoot. Our photography studio with kitchen for hire is equipped with everything you need for a successful and professional photoshoot. 1300sq ft of space with 3.5m ceilings. 5m wide Infinity Cove and goods lift. Original brickwork features.
Modern and Functional Kitchen Studio in London
---
---
---
The Photography Studio can be used with Daylight or it can be Black Out - your choice!
Fully equipped kitchen.
Everything is included when you hire the Studio for a Food Photo Shoot or Video Shoot. Plenty of work surface area and a vast selection of cooking equipment and utensils.
Part of the kitchen is on wheels so you can configure it as a kitchen island. This lets you have the perfect layout for your cooking session, photo and video shoot.
01. Double Oven
02. Combi Oven & Microwave
03. Induction Hob
04. Gas Hob
05. American Style Fridge/Freezer
06. Dishwasher
07. Double stainless steel Sink with mixer tap/handspray
08. Kenwood kMix Food Mixer with accessories
09. Kenwood kMix Hand Mixer
10. Kenwood MultiPro Food Processor
11. Kettle, Toaster, Utensils, Cookware, Tableware, Cutlery, Mugs etc.
MEASUREMENTS
Studio Area
Length: 15.5m / 50.85ft
Width: 8m / 26.24ft
Height to ceiling: 3.5m / 11.48ft
Height to beam: 3.1m / 10.17ft
Infinity Cove
Cove Width: 5m / 16.40ft
Cove Depth: 6m / 19.68ft
Total Cove Space: 30m² / 98.42ft²
Total Studio Area: 125.8m² / 1300ft²
HIGHLIGHTS
Infinity Cove
3.5m / 11.48ft ceiling
Exposed Brickwork
Wooden Floor
Kitchen
Daylight
Blackout
Goods Lift
Sonos Speakers
WiFi
POWER
1X 63A three phase outlet
1x 16A single phase, 1x 32A single phase, 1x 16A three phase, 1x 32A three phase Distro Board
EQUIPPED WITH
Rail + Hangers
Hair/Makeup station
4 Polyboards with stands
Table with chairs
Sofa and armchair
Trolley for laptop/PC
---
1300sq ft Food Photographic Studio in London. Suitable for most food shoots!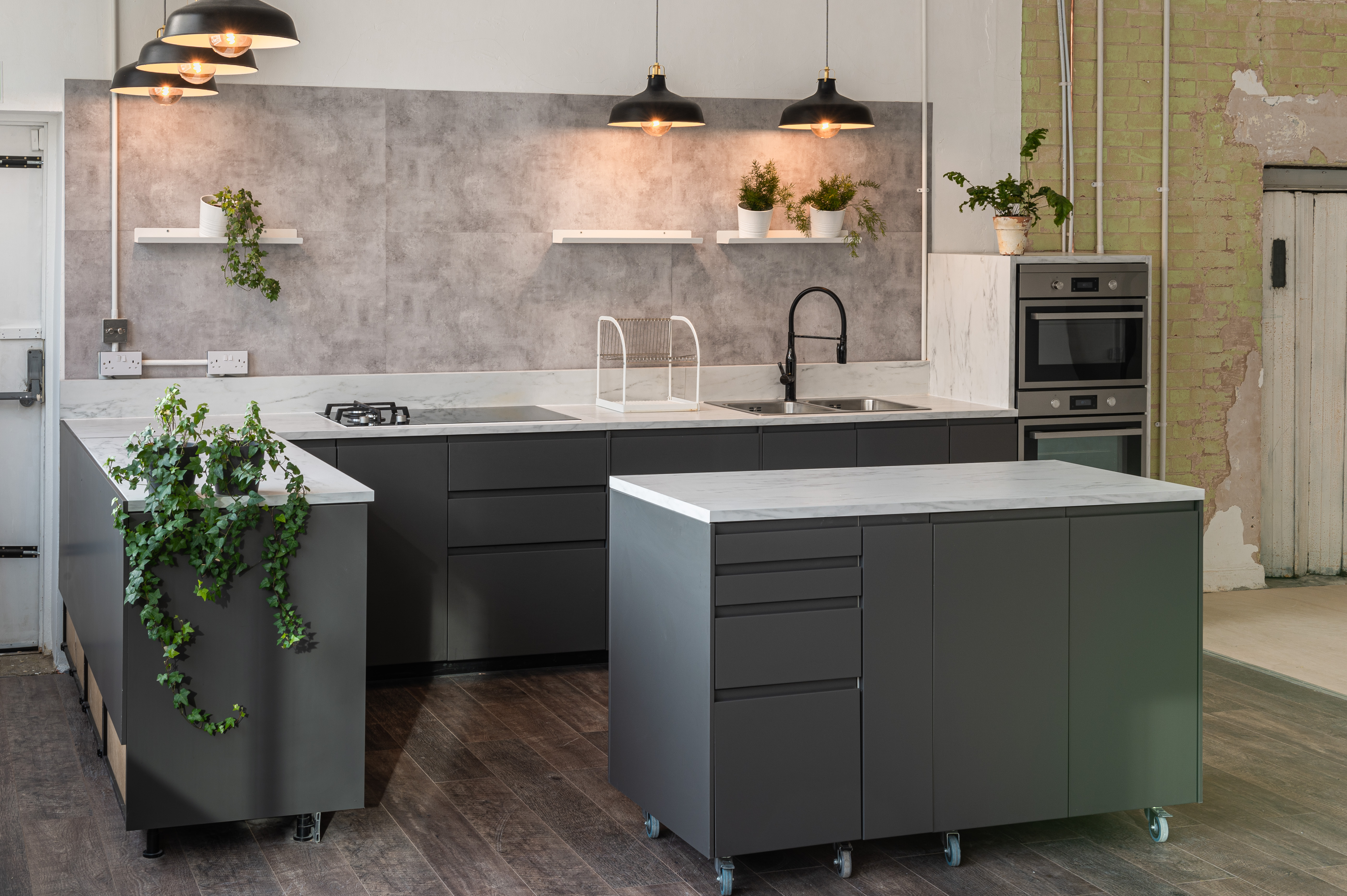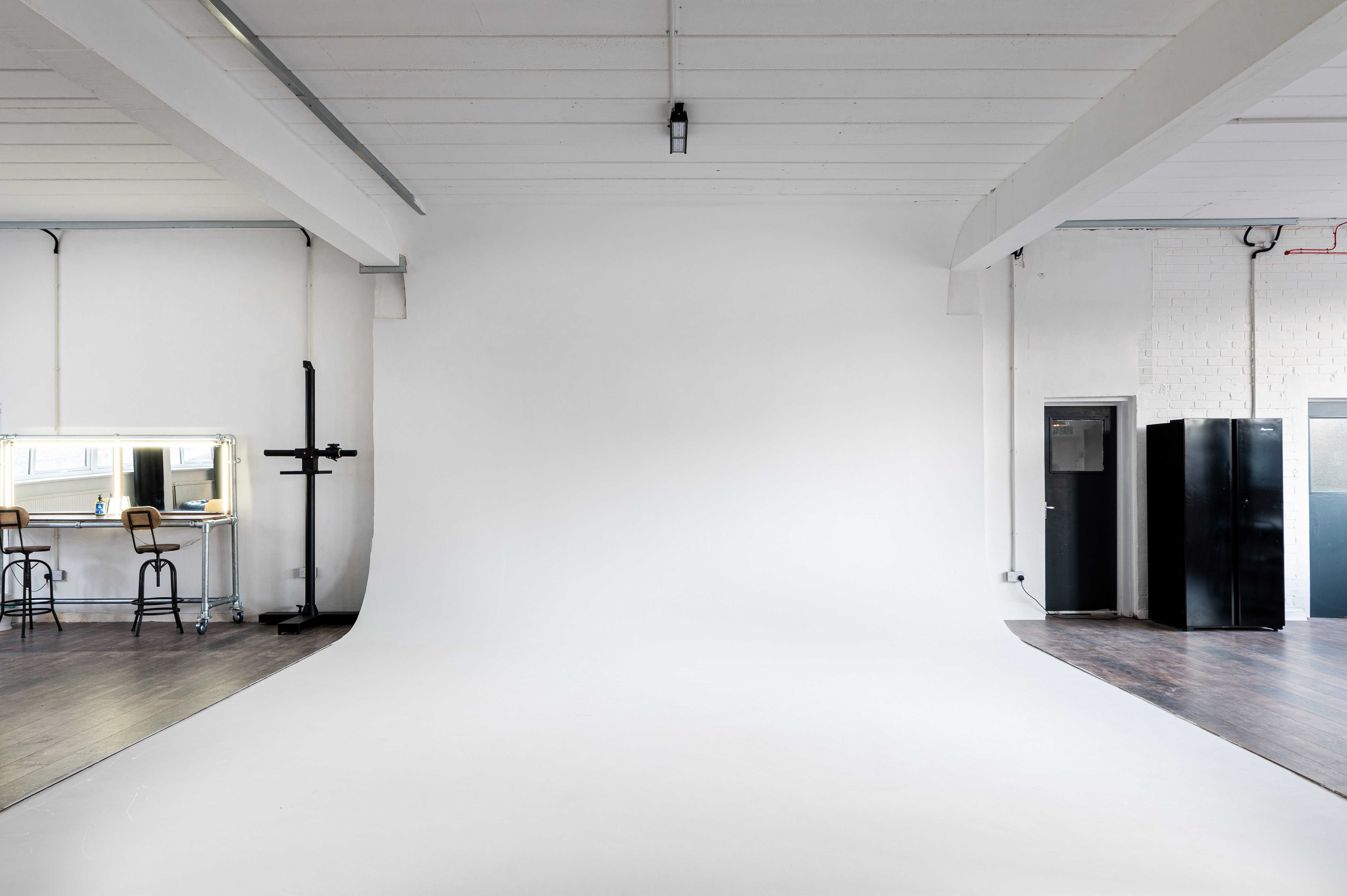 ---
---
Our Food Photography Studio is located between Whitechapel and Aldgate East station in East London. These stations are just 5/7 minutes walk away. There is a Tesco supermarket conveniently located around the corner from us if you need to grab some ingredients for the shoot. The Studio is located outside the congestion area.
4 hours: £450
6 hours: £650
8 hours: £750
10 hours: £1000
12 hours: £1300
Weekends: +£100
Ex. VAT
06:00 - 21:00 = £175
21:00 - 06:00 = £200
Overtime charges start when the studio is occupied outside of your booked hours. It is charged with a minimum of 1-hour (no half hours) and 1 hour increments.
The rates on this page are only for photo shoots and groups of up to 15 people.
Filming rates might differ depending on the lights used so please enquire.
Please contact us especially if you have over 15 people and/or are filming.
Useful Info
Frequently Asked Questions.
COVID- 19 NEW SAFETY MEASURES
We have implemented strict new rules to comply with Government advice and to keep you safe. READ MORE HERE